Thieves bulldoze ATM machine off wall in Bintulu
BINTULU: An automated teller machine (ATM) at a premises in Kemena
Industrial Estate was believed have been pulled off by thieves about
1.50am yesterday using a bulldozer and driven away.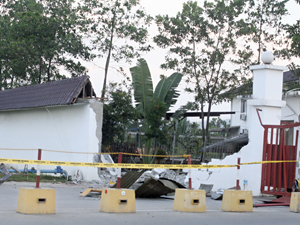 LOOKING FOR EVIDENCE: The crime scene is closed to the public to
enable police to look for clues. Note the wall where the ATM machine
used to be.
It was believed that the crime was carried out by more than one
person and the thieves managed to pull the machine from the wall after
ramming it in.
A security guard who was stationed at the machine, said he could not do anything about the brazen theft.
He said when the thieves used the bulldozer to rip the machine off he was so shaken by the impact and ferocity.
He said after the thieves escaped with the machine, only then was able to act and inform the police.
By the time the police arrived, the thieves and the ATM machine were gone.
The total loss has yet to be determined, but it was said that the
machine was newly reloaded was it was the end of the month and workers
were withdrawing their salaries.
Bintulu police chief Superintendent Sulaiman Abdul Razak when contacted yesterday confirmed the incident.He said the police believed the bulldozer which was used was taken from a nearby workshop.
Later, it was confirmed that the vehicle was found by the police.
Sulaiman said based on the initial investigation they believed that
the suspects were probably the former employees of the company as they
seemed to know every detail of the place.
In an unrelated incident, a rented house at the MLNG housing area in Kidurong was broken into, believed by three armed robbers.
The incident which occurred around 4am yesterday was a failure for
the robbers because their attempt to steal the house owner's luxury
four-wheel drive vehicle was stopped by a neighbour who called the
police.
The robbers fled from the area, leaving several tools including a machete and face mask at the rear of the house.
It was said that two robbers escaped in a brown Proton Wira and another accomplice fled on foot.
The police failed to capture the suspect after giving them a chase.
They returned straight away to the rented house and found a man in
his 40s wounded, believed to have been slashed in the neck by one of
the robbers. He was still breathing then.
Source: theborneopost.